Resembling the sail of a traditional Arabic Dhow, the Burj Al Arab hotel is iconic. As of 2009 it is one of the most luxurious hotels in the world.This hotel built on an artificial island, opposite the Wild Wadi Waterpark, has just over 200 luxuriously furnished duplex suites on 28 floors with a concierge on each floor. The Burj Al Arab like the other hotels in Dubai also provides discounts beginning from the month of June if you wish to stay there during your Dubai tour.
If not, then you can always make the famous Burj Al Arab a part of your Dubai city activities just so you can experience exquisite furnishings, luxurious fittings, the luxurious atmosphere of the world's tallest atrium and standards of personal service exceeding the expectations of the most discerning guests.
Above all, the Burj Al Arab offers delectable food. You can choose from a sumptuous selection of 9 different Tapas choices from a live cooking station while listening to the calm musical geniuses of the Jazz duet- Dihann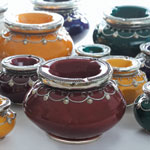 Duo in the Burj Al Arab.
Before making your own bookings at the Burj Al Arab Hotel, be sure to check the timings of the different graceful experiences available. Otherwise, allow Dadabhai Travel and Tourism to provide you with an extraordinary vacation in Dubai.